Naughtone Pullman chair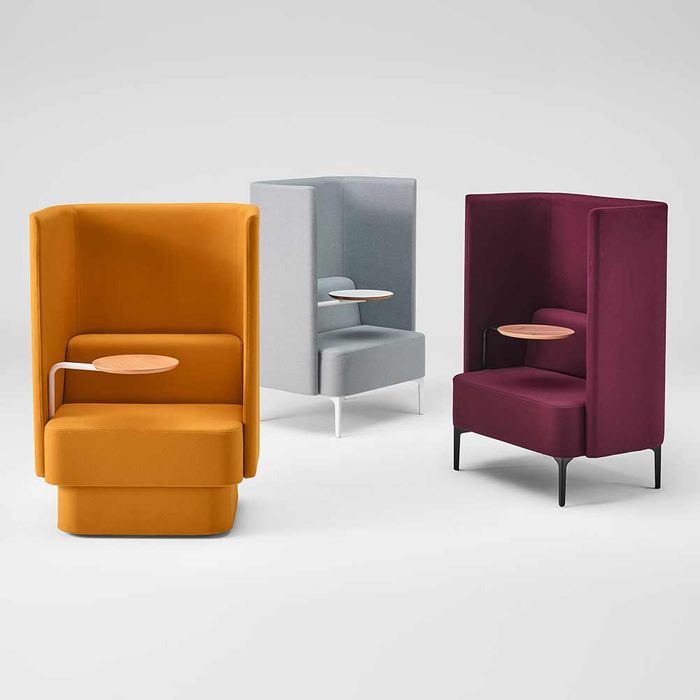 Ideal for flexible working environments, the Pullman Chair delivers privacy and comfort with a modern touch to open plan spaces—from busy offices to university communal areas. Position the chair alone for independent work or place chairs together for small group collaboration. The Pullman's high back, upholstered body, and foam construction help provide a level of acoustic comfort needed for focused work without distractions or a quiet retreat. Specifying a swivelling plinth base allows the user to turn more inward, adding an extra level of privacy.
An extension of the Pullman Chair, the single-seat Chair Pod boasts extra panels to create an almost full enclosure, helping to provide an additional level of acoustic comfort. Designed to complement the Pullman family of products, the chair and chair pod maintains visual cohesion across the floorplate. Choose from an array of attractive colours, finishes, and fabrics to tailor Pullman seating to fit into your unique environment. The chair also features a tablet arm to position work and devices comfortably.
Key points
Chair available with or without integrated tablet arm
Chair available with legs, upholstered plinth or swivelling upholstered plinth
Chair Pod available with legs or upholstered plinth
Two tone upholstery available
Plywood inner frame topped with high quality foams then neatly upholstered
Power unit available